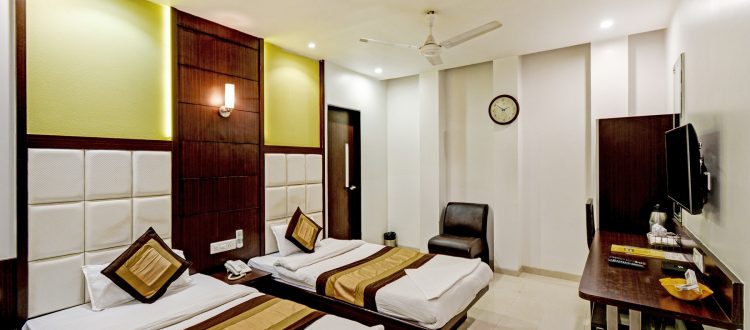 Super Deluxe Room
Start From
₹170.00 / Night

2 Double Beds

5

Beach

Yes
Room Details
For your accommodation in Ahmedabad, Every room is spacious and contemporary with soft lighting, and decorations which is elegant and plush. Our is among Good Hotels in Ahmedabad near Railway Station. Super Deluxe room offers all the comforts to make you feel at home. From complimentary breakfast for your good morning to cable TV within room movies for your entertainment. And host of other modern amenities for the ultimate comfort.
Accommodates : 4
Bathrooms : 1
Bedroom : 1
Beds : 1
Check In : 09:00 AM
Check Out : 09:00 AM
Property Type :  Room
Wifi : Free
Elevator : No
Hair Dryer : Yes
Air Conditioning : Yes
Parking : Free / Car / Night
Safety Box : Yes
Television : Yes
Extra people : 1200 Rs to start / night
after 2 guests
Cleaning Fee : Free
Security Deposit : 0
Weekly Discount : 10%
Photos
Description
Each room has its own style, but all offers every comfort to make your stay a unique experience. The rooms offer ample space for work or leisure. Surf the web via wireless Internet at your desk and browse Satellite channels on the Flat screens TV. Comfort in every detail, from custom furnishings to individual reading lights with Cosy Bed and Sofa.
The Super Deluxe Rooms at Hotel ONe Up, Ahmerdabad, are designed to provide great comfort to it's guests. The rooms are equipped with the best facilities including high-speed Wi-Fi, LCD TV with an active satellite connection with remote,and much more. The room is an ideal choice for both business and leisure travellers.
This Super Delux room has a stylish decor and state of the art facilities that are bound to make your stay a memorable experience. The furniture is tastefully selected, the amenities and bathroom here are luxurious, thus making your stay a comfortable one. Each room is equipped with flat screen cable TV, telephone and a safe for your valuables. Free Wi-Fi access is available in the entire property and complimentary parking is provided on site are just some of the facilities on offer.
Location
Address : 4669, Opp. Patthar Kuva Petrol Pump, Relief Rd, near Relief Cinema, Ahmedabad, Gujarat 380001
Phone : +91 93222 65987
[email protected]